Hop-on, hop-off city tour of Toronto
Ride around Toronto on a Double Decker bus with a professional guide
Explore the city with a 48-hour pass that allows you to hop on and off at your leisure
Join the complimentary boat cruise (seasonal)
see link for details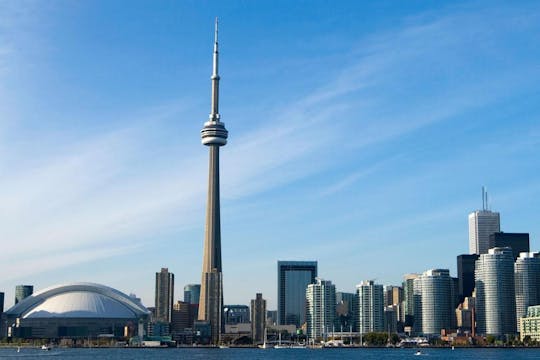 Hop-on, hop-off city tour of Toronto
Classic Distillery District walking tour
Dubbed 'One of Toronto's Top 10 Walking Tours', you'll enjoy an hour in the beautiful Distillery District and learn the story of Gooderham and Worts Distillery's rise to fame and transformation into the modern Distillery District.
Guided by a local expert, you'll get insights on prohibition, working conditions, building uses, alcohol production, successes and failures, the area's gentrification, and more. And to top it off your guide will take you for a complimentary tasting of 1 chocolate and up to 3 beer samples at the end of your tour.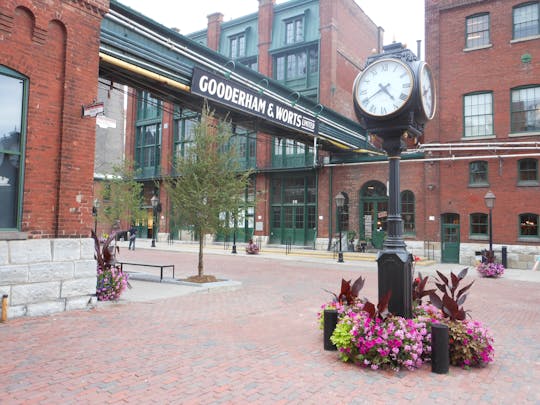 Classic Distillery District walking tour
Lift Your Spirits Toronto Distillery District tour
Lift your spirits and discover Toronto's pedestrian-only Distillery District on this two-hour walking tour. Listen to your guide share all about the city's distillation industry, both past and present, as you walk the cobblestoned streets and admire the Victorian-era industrial architecture.
Visit the grand and impressive Spirit of York Distillery, and actually witness the distillation processes of premium vodka, gin and whiskey. Learn to properly savor the spirits, then you'll enjoy some gourmet appetizers and even a cocktail based on your favorite spirit!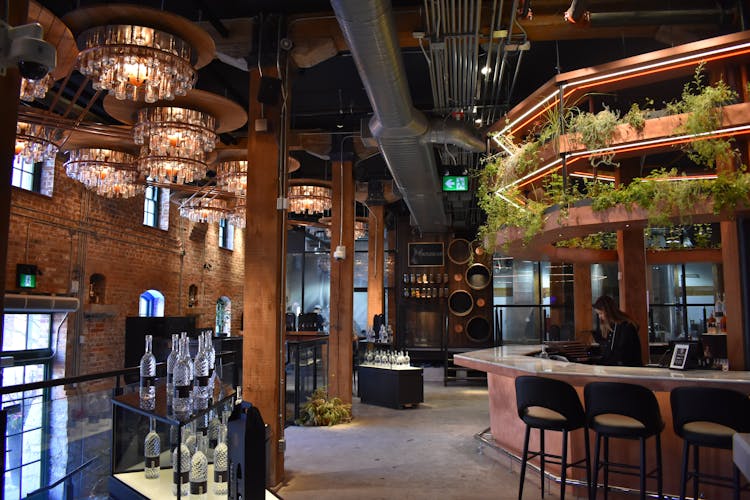 Lift Your Spirits Toronto Distillery District tour
Guided walking tour in Toronto: Kensington Market and Chinatown
Experience the sights, sounds, and smells of Toronto's legendary Chinatown
Explore the unique, bohemian atmosphere of Kensington Market – one of Toronto's most famous and eclectic neighbourhoods
Check out locally-owned and operated eateries, shops, and produce markets
Walk the hidden lanes and alleys to discover amazing graffiti art
Keep a tally of all the places you're going to want to come back to later (trust us)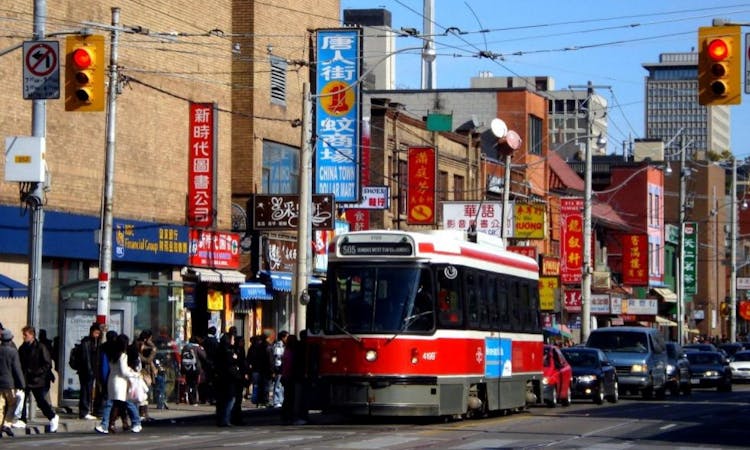 Guided walking tour in Toronto: Kensington Market and Chinatown
Private Niagara Falls tour
Begin your day of luxury with your own licenced guide and private vehicle providing style, comfort and class. Depart your hotel at your leisure and customize your itinerary, whether you want to explore Niagara with your private guide or experience breathtaking views of Niagara Falls and surrounding areas.
See how the combined power of the cataract Falls results in a mind-boggling flow-rate that provides hydroelectric power via reservoirs and canals. Treat yourself to a ride aboard the Hornblower Niagara Cruise (tickets may be purchased on tour), or add on a breathtaking helicopter ride over Niagara to see the region from a birds-eye view!
Next, enjoy a pay-own lunch in Niagara Falls, Niagara-on-the-Lake or at a farm-to-table restaurant–according to your preferences. No tour would be complete without a sampling of some of the regions finest wines at an award-winning estate! Enjoy your wine tasting, and relax on the journey back.

Guided walking tour in Toronto: when pigs fry
It's time for a bit of pork overload…are you ready? At one point there were so many pigs in Toronto that the city garnered the nickname "Hogtown", and the pork and bacon earned a reputation for being some of the best in the world. Sample bacon, pork, and sausage, find out about ethical pig farming at a local butcher, and learn about the role of the pig in pop culture, or is that pork culture?

Guided walking tour in Toronto: when pigs fry
Beer makes history better – guided walking tour in Toronto
Through fire, war, depression, cholera, rebellion, and repression, beer has been there soothing the woes of Toronto's people. Join them in historic pubs and hear tales of years gone by over a craft beer on this Toronto tour that proves that beer does indeed make history better (like that was ever in doubt)!
Throughout its history, from the early 1800s, when Toronto was known as "York" to the modern metropolis it is today, the citizens of this city have used beer for refreshment and merrymaking. This Toronto beer tour is a historic walk through the streets of the old Toronto and an introduction to Canadian beer all rolled into one.
Beer makes history better – guided walking tour in Toronto
Hop-on hop-off bus tour of Toronto
Enjoy everything Toronto has to offer and make the most out of your trip on board an open-top bus that will take you through the 20 stops available in this wonderful city.
Start the tour at Yonge-Dundas Square, and hop on and off as many times as you want during the 48-hour window that your ticket offers you. Once you are on board you'll be able to marvel at local highlights like the CN Tower, the Bata Shoe Museum, Chinatown and the Hockey Hall of Fame, among others.
And with the live commentary and audio guide available, you'll be able to learn as much as you can while you see the best this city has to offer.

Hop-on hop-off bus tour of Toronto
Toronto private wine tasting with CMS sommelier
Whether or not you're a wine enthusiast, you're sure to enjoy this private wine tasting in Toronto! Meet your sommelier guide before kicking off the tasting with a cocktail of local spirits. Your guide will teach you how to taste wine like the experts, and you'll learn about the different regions and grape varieties that grow in Ontario. Pair delicious cheese and other snacks with your Riesling, Chardonnay, Pinot Noir, Cabernet Franc and Icewine.

Toronto private wine tasting with CMS sommelier
Cold-climate wine tasting excursion in Niagara
Your intimate wine excursion in the Niagara region begins with a convenient pick-up by your sommelier guide. Learn about cold-climate wines, which is Ontario's specialty and a Canadian treasure! Try Riesling, Chardonnay, Pinot Noir and
Cabernet Franc at three boutique wineries.
Take a tour of the facilities and enjoy a cheese pairing as you meet the winemaking teams. Wander the picturesque village of Niagara-on-the-Lake after being treated to a locally-sourced lunch at one of the vineyards.

Cold-climate wine tasting excursion in Niagara
Dumpling crawl in Toronto
Discover Toronto's buzzing Chinatown on this three-hour dumpling crawl! Feast on eight types of dumplings from different regions in China while learning about some dim sum classics. A local guide will share some food history as you sip on some bubble tea.
Best of Toronto private food and sightseeing tour
Experience the best of Toronto on this food and sightseeing customizable tour! Spot the city's most popular sights as you ride around the city in a comfortable, six-passenger car. Your guide will bring you to authentic, ethnic eateries and some off-the-beaten-path gems to taste some of Toronto's best grub. Customize the tour to accommodate your needs or palate, and feel free to add brews or spirits.

Best of Toronto private food and sightseeing tour
Icewines of Niagara tour from Toronto
Prepare to learn all about icewine, one of Canada's national treasures, on this tour from Toronto! Icewine is made from frozen grapes that fall from the vine that are then crushed, producing a sweet nectar. After a pick-up in Toronto, head to Niagara wine country, where you'll understand how icewine is made and learn about cool-climate grapes.
You'll stop at four premium wineries, where you'll taste their product paired with specially-selected foods. Your guide will reveal how to best enjoy the Niagara Icewine Festival and also share interesting information about the arduous icewine-making process. To conclude the tour, enjoy a locally-sourced lunch at one of the award-winning wineries.

Icewines of Niagara tour from Toronto
Queen West pastry crawl in Toronto
Work up an appetite walking around Queen West, and reward yourself with sweet treats on a 2.5-hour pastry crawl in Toronto! Walk around the vibrant neighborhood with your guide as you taste signature products at each bakery and learn the history of the shops.
Stop for a drink at a local eatery near the stunning Trinity Bellwoods Park and create your own Argentinian dessert at another café. Try divine eclairs, enjoy delicious Italian sweets and then take a tour of Queen West as well as famous Graffiti Alley. That's not all–you'll also receive a polaroid picture of you and your sweets to take home!

Queen West pastry crawl in Toronto
Cozy in the County wine tour
Not too far from Niagara lies Prince Edward County, a quaint island on Lake Ontario that has increasingly become more popular over the past decade due to its delicious wines and charming landscapes that are often compared to Burgundy, France. You'll be picked up from your hotel in Toronto, and drive along the lake to your first winery of the day.
Spend the rest of the day guided by a sommelier learning about the region and its wine as you visit three other premium wineries. Enjoy a delicious lunch at *Norman Hardie's vineyard, where they serve pizza on a wood-burning stove and veggies fresh from the garden. You'll also have the opportunity to taste local delicacies and visit small towns throughout your excursion.
*Other lunch provided when not seasonally available.

Toronto West End pizza crawl
Pizza is one of the most beloved foods in the globe, and–in Toronto–they do it their own way! On this three-hour, guided crawl, you'll discover Toronto's amazing pizza scene in the West End neighborhood of the city. Taste the specialties of five different pizza shops and learn about the techniques, equipment, different doughs and history of the food throughout the tour.